Kathy
Imaging Technician and Dental Assistant
I enjoy meeting all our patients but especially the younger ones and their parents. I love making kids laugh, helping every patient feel like they're part of our family, and seeing the end results of treatment! I take the initial and final patient photos along with X-rays and digital scans for diagnostics and treatment planning. I also complete the patient workups for the doctors. I've had the privilege of working at this practice since 1973 and am proud to be part of a great team that creates amazing smiles for our patients!
Outside of work I love spending time on my houseboat and fishing, especially with my two sons, Chris and Jason, and my grandkids!

Amanda
Dental Assistant
I love watching everyone grow and change as they move through treatment. I work in the clinic where I help patients during visits. I seat and prepare them for their procedure and assist Dr. Collins and Drs. Greer.
In my spare time, I play slow pitch softball and love watching my youngest son play baseball, I've been married for more than 10 years and have two wonderful children, Clayton and Corbin.

Barbi
Treatment Coordinator
As Treatment Coordinator of our office, I meet our new patients and
their families at the initial exam. I introduce them to the world of
orthodontics. I enjoy being part of a team that changes lives, while
also working in a fun, friendly atmosphere. As I assist the doctor with
the new patient exam, I also review their treatment plan options and
find a financial arrangement that meets the family's needs. I make
sure our patient and/or family are comfortable with their treatment plan
and answer any questions to make sure everyone understands and
gets off to a great start!

Outside of work I enjoy life with my husband, Jimmy, along with my
son Chris and his wife Lexi, my daughter Mariah, our wonderful
grandsons Jordyn, Braeden, Bryson and granddaughter Chloe. I am
also blessed with a wonderful church and church family at Mighty
Wind Worship Center, and I enjoy all sports, but love watching college
football.

Melissa
Certified and Registered Dental Assistant, Treatment Coordinator, and OSHA Coordinator
I look forward to meeting new patients, walking them through starting treatment, and seeing all the beautiful smiles when they finish! We have a great team: they're my second family. In addition to new patient exams and consultations, I provide chairside assistance during different procedures. I'm also the practice OSHA coordinator.
My husband Mike and I have been married more than 33 years. We have two adopted sons, Zachary and Caleb, who are our pride and joy.

Amy
Dental Assistant
I love working with our patients and families, Dr. Collins, Drs. Greer, and our team: together, we help people achieve awesome smiles that transform their lives! It's amazing to watch a person change during treatment. Each becomes more confident and outgoing, more secure in their appearance, and happier. I love being part of that process! Working in the clinic, I assist Dr. Collins and Drs. Greer with patients.
I've been happily married to my husband, Robert, for several years. I have an adult daughter, Blair, and three grandkids, Bella,Jett and Lincoln. For more than 29 years I've taught aerobic classes at the Waco Family YMCA.

Carol
Lab Technician
I love playing a role in creating life-changing, beautiful smiles! Dr. Collins and Drs. Greer are amazing orthodontists and my coworkers are part of my family. We work well together to create great smiles for our patients! I work in our onsite lab, where I create custom appliances for patients. I really enjoy creating the retainers, which patients wear after they finish braces. The retainers ensure patients are able to enjoy a lifetime of wonderful smiles!
Outside of work, I love time with my two sons, James and Shelby.

Amber
Scheduling Coordinator
I love seeing patients' smiles as they arrive for their appointments. Everyone is so excited to show us how much their smile has changed, and just as excited to tell us about their latest adventures! I greet and check in patients, update their records, and at the end of the visit I check them out and schedule their next appointment. I also handle the phones and answer patient and family questions. We have the happiest office, filled with laughter and smiles!
My husband David and I have been married for more than ten years. We have two children, Marlee and Caden, and live in Oglesby. We enjoy going to church and meeting new people. We love spending time making memories with family and friends.

Kellie
Dental Assistant
I am a people person and love getting to know our patients and their families. It's amazing to watch a person transform, from visit to visit as their smile changes. By the time they've finished treatment, they're happier, confident, and have an incredible smile! I work chairside, where I assist the doctors as they tend to patients.
I spend most of my free time with my husband of over 15 years, Derek, and our amazing son, Clayton. We enjoy vacationing with friends in our travel trailer, and spending time on our boat fishing.

Tasha
Dental Assistant
I never get tired of seeing the amazing transformation that happens with each patient's smile. As the patient sees the change in the way they look, they feel better about their appearance and more secure in who they are. It's incredible to be part of a practice that helps people with healthier, happier lives! We're one big family here and our patients are part of that family. Working in the clinic, I support patients during various procedures, always checking that they're relaxed and comfy.
My husband, Dustin, and I have a wonderful son, Drake. We enjoy being outdoors, especially going fishing and riding ATVs, and love time with family and friends.

Michelle
Treatment Coordinator
As a Treatment Coordinator, I meet with new patients and their families at the initial visit to discuss what results they would like to acheive with orthodontics. I answer any questions they may have regarding treatment plan options and financial arrangements. I have been a dental assistant my entire adult life and have always enjoyed getting to know my patients and making them (and their families) comfortable in every aspect of their treatment. We serve the best people and I always enjoy hearing their stories and getting to know them.
In my spare time I love to travel, compete in triathlons, hike, camp and spend any time I can with my two grown sons and daughter-in-law.

Holly
Financial and Insurance Coordinator
I handle accounts receivable and insurance matters for the practice. I also work closely with patients and parents to find financial solutions that fit with their budget so that they can achieve life-changing smiles!
My husband Ted and I have been married for more than 32 years. We have three children, Zak, Braden and Macy.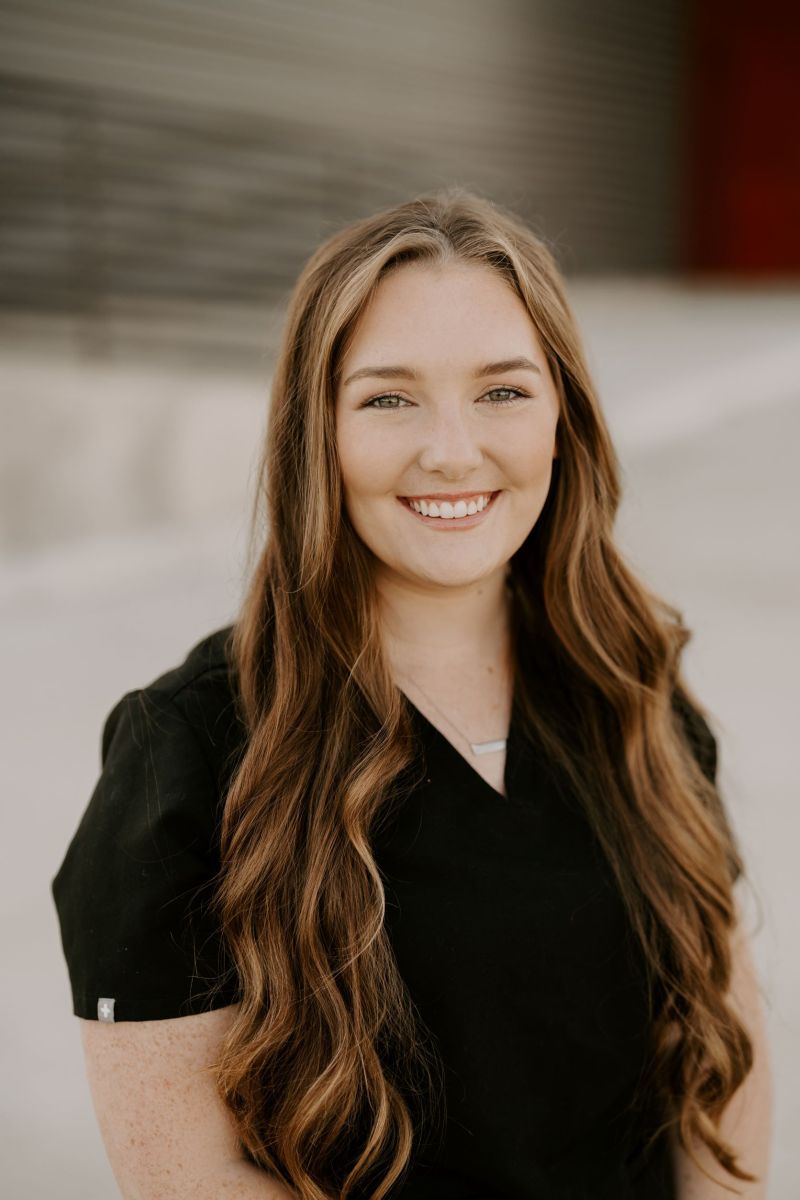 Elizabeth
Dental Assistant
As a chairside assistant I enjoy placing brackets at initial appointments and seeing the patient's transformation throughout treatment. I am always excited to learn new things throughout the dental field.
In my spare time my boyfriend and I love taking our kayaks out. I also enjoy going back to the family farm and spending time with them.